Strike Against SOPA & PIPA - This is important for me a small (teeny tiny!) business. The Internet is the only playing field I have and I don't think that corporations should control them. We, the public, has already lost control of our airwaves (television, radio) to corporations even though we are supposed to own them, so let's not let it happen here, too. Help small business, artists, and innovators by going all out today and letting your representatives know that this is not okay. Just fill in the blanks below, and if you can, make a phone call or two. And forward this info to everyone you know, and blog. This is the day!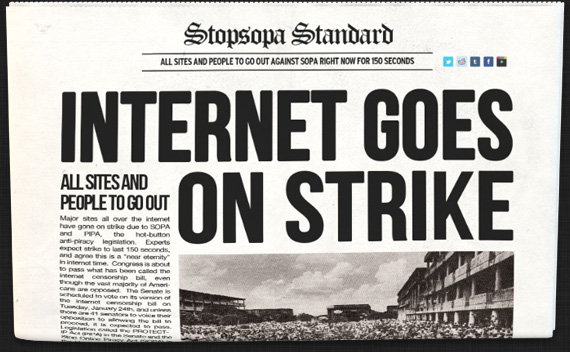 Today, we are striking against censorship. Join the largest online protest in history: tell Congress to stop this bill now!
Fight For The Future may contact you about future campaigns. We will never share your email with anyone. Privacy Policy
Learn More: Watch the video · American Censorship page · View the Infographic
Read SOPA on OpenCongress · Read PIPA on OpenCongress
The three most definitive articles on SOPA and PIPA: Free Speech, Problems, Security
Fight for the Future is a non-profit organization fighting for people's freedoms in a new digital age.